The Samsung Galaxy S8 is still the new shiny, but we've had a brainstorm about the improvements we'd like to see on the Galaxy S9.
1. A foldable screen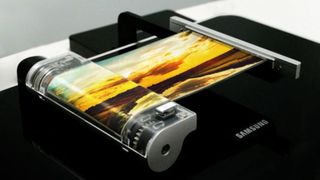 Rumors of the Samsung Galaxy X – a phone with a foldable display – have been building for the past few years.
A Samsung executive has told the media that the company doesn't plan to launch a fully foldable phone until at least 2019, but plans may change in the coming months.
For Samsung to build the first truly foldable phone and sell it in 2018 would be a major boost to the South Korean company, and may change the way we use our phones forever.
2. A smaller version
Samsung doesn't offer an Android alternative to the iPhone SE. Instead the company has the Galaxy S8 and Samsung Galaxy S8 Plus for the mid-sized and larger phone lovers out there.
We'd like to see Samsung embrace a smaller display on the Galaxy S9, or offer up a third version that includes a smaller screen instead.
3. A fingerprint sensor under the screen
It's clear Samsung wanted to move the fingerprint sensor under the screen for the Galaxy S8, but didn't have enough time to make it work.
Instead Samsung included a touch-sensitive home button under the display, which is useful, but we'd like to see the company go the full way and include a fingerprint sensor below the screen.
4. A lower price
Samsung has had to increase the price for the Galaxy S8, making it one of the most expensive flagship phones on the market.
If you're buying it as part of a two-year deal it's not as expensive as you'd expect, but we'd like to see Samsung reduce the price for next year's phone if at all possible.
5. Dual-lens camera
Rumors for the Galaxy S8 suggested Samsung was working on a dual-lens shooter like the iPhone 7 Plus or the LG G6 but it never came to fruition.
Considering the camera improvements on the Galaxy S8 seem to be rather limited it would be great for Samsung to push the camera tech in the phone to a dual-lens setup on the Galaxy S9.
Given that the Galaxy Note 8 has now launched with just such a snapper, this is looking likely.