IMEI Stand for International Mobile Station Equipment Identity which is a unique 15 digit identity code of each phone. If you lose this code, you won't be able to make any calls or track your Phone once its lost. The IMEI number is used by a GSM network to identify valid devices and therefore can be used for stopping a stolen phone from accessing that network. For example, if a mobile phone is stolen, the owner can call his or her network provider and instruct them to "blacklist" the phone using its IMEI number. This renders the phone useless on that network and sometimes other networks too, whether or not the phone's SIM is changed. You can find you IMEI No by entering *#06# on the dialpad. In this guide I'll help you to restore your lost IMEI No. which is generally lost due to installing custom ROM, using improper method for rooting etc. One can easily find your phone's model through your IMEI No. Cyanogenmod 13 ROM for Unite 2
Don't Miss :
Tested On  Micromax Unite 2 (MT6582) :
Procedure :
Step 1. Download all above, extract as needed.
Step 2. Connect Phone to PC in USB debugging mode and install drivers.
Step 3. For windows 8.1/8, move your mouse to top right corner and click on settings-power. Now press and hold shift and click restart. from advance options select 7 to disable driver signing.
Step 4. Once PC is restarted, press windows key+pause break to open system properties.
Step 5. From left select device manager. From actions menu click add legacy hardware.
Step 7. Click next and select Install the hardware that i manually….. (advanced), click next, select show all devices, click next, click have disk, then browse, locate SP_Drivers folder and select CDC-acm.inf, click open, click OK, select Mediatek Inc. and MediaTek USB VCOM (Android), Click next and next again, click finish. Refer below image.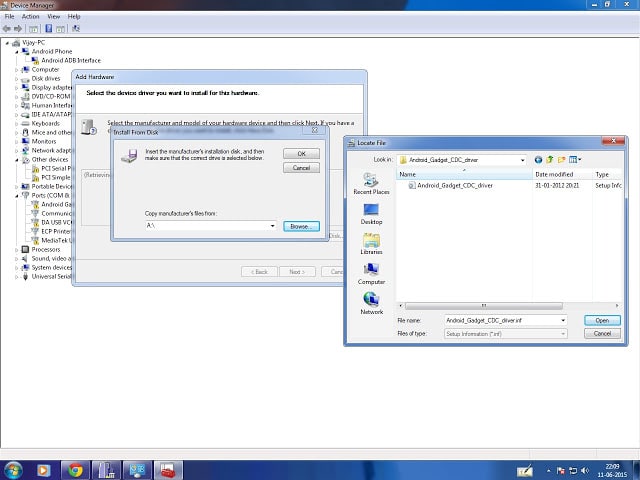 Step 8. Install MauiMETA and run it. Use USB COM and from Options menu select Connect smart phone in meta mode.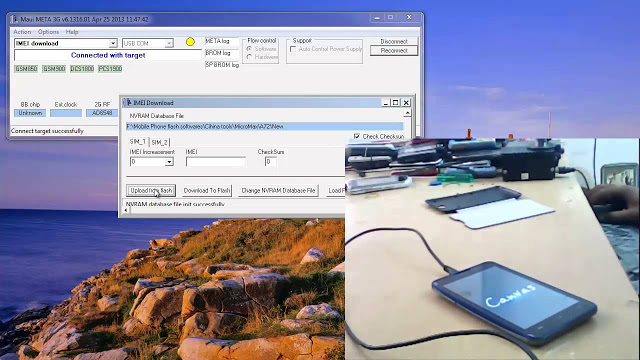 Step 9. Press Reconnect and connect phone in switched off state with battery. The blinking led will become yellow and you can see "Connected with target"
Also Read: List of all Cyanogenmod 12.1/13 Themes
Step 10. Now from drop down menu select IMEI download. Click OK till you see IMEI download box.
Step 10. Now from drop down menu select IMEI download. Click OK till you see IMEI download box.
Step 11. Click Change NVRAM Database File and browse to
MT6582 DB FileMT6582BPLGUInfoCustomAppSrcP_MT6582_S00_MOLY_WR8_W1315_MD_WG_MP_V5_1_wg_n (BPLGU modem file for MTK6582).
Click OK on any warning.
Step 12. Leave IMEI Increasemnt 0. Write first 14 digits of your IMEI in IMIE box and last 15th digits will go in check sum(should be entered automatically). Eg:- if IMEI is 123456789123456, write 12345678912345 in imei and 6 in checksum. Do same for Sim_2
Step 13. Press Download To Flash. You will see Download IMEI to flash successfully. Now close the box (or Alt+F4 or close from task manager if stuck).
Step 14. Restart the phone, see the magic
Here are the detailed videos :
Credit :

Sudeep Duhoon
Vijay Jaiswal
              I Hope this method works for you. Don't forget to like, +1 & Share this post with all other Mediatek users. If you are stuck at any step, fe