Seven generations into it, the Moto G is now a whole four-player lineup instead of just one phone like it was in the good old days. Here we'll focus on the namesake of the 2019 roster – the Moto G7 proper, to see if it still has some of that great value the original was famous for.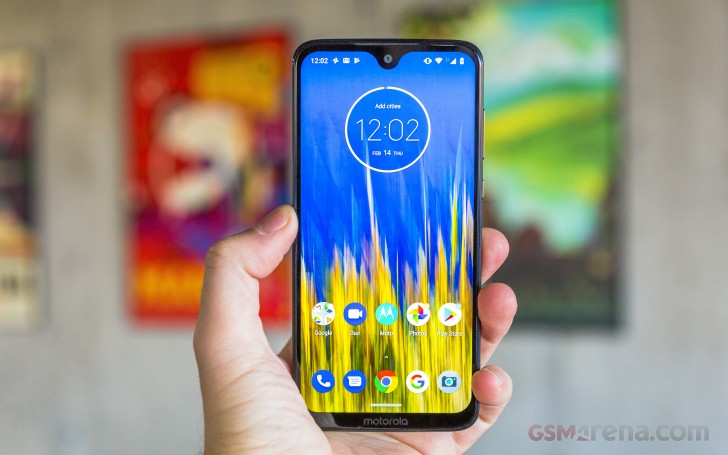 At first glance, the Moto G7 isn't missing any of the requisites of a modern phone, and it better not be – at $300 or €250 it's some 50% more expensive than the Moto G was in 2013, even accounting for inflation.
For your money, you'd be getting a 6.2-inch display, and to be fair that's 70-odd percent more screen area that the Moto G – on that metric alone, you could say the price increase is justified. It's a tall screen too, complete with rounded corners, waterdrop notch and minimal bezels, so it's perfectly in sync with the times.
Technically, so is the chipset, although the Snapdragon 632 is anything but exciting, even if it did come out in the second half of last year. The Android 9.0 OS is as current as you can get too, so more points to the G7 for not lagging behind.
With enough RAM and storage, plus a dedicated memory card slot, 3.5mm jack and an FM radio receiver, the Moto G7 checks pretty much every box that a savvy consumer is looking for in the midrange. Meanwhile, a 'depth sensor' on the back lets the G7 boast a dual camera while keeping costs down – you could say it's the norm in this segment.
Motorola Moto G7 specs
Body: Glass back, plastic frame, 157.0 x 75.3 x 8.0 mm, 172g; Ceramic Black, Clear White color schemes.
Display: 6.2″ IPS LCD, 1,080 x 2,270px, 19:9 aspect ratio, 405ppi.
Rear camera: Primary 12MP, 1.25µm, f/1.8 aperture; phase detect autofocus; secondary 5MP depth sensor.
Front camera: 8MP, 1.12µm, f/2.2 aperture, fixed focus lens.
OS/Software: Android 9.0 Pie.
Chipset: Snapdragon 632: octa-core CPU (4×1.8 GHz Kryo 250 Gold & 4×1.8 GHz Kryo 250 Silver); Adreno 506 GPU.
Memory: 4GB of RAM; 64GB storage; dedicated microSD card slot.
Battery: 3,000mAh Li-Ion (sealed), 15W charging.
Connectivity: Dual SIM; Wi-Fi a/b/g/n/ac, Bluetooth 4.2; USB-C, 3.5mm jack.
Misc: Rear-mounted fingerprint sensor; single, bottom-firing loudspeaker; three microphones (noise reduction).
Now, this being a whole lineup of Moto G7s, you can steer in different directions if this vanilla G7 isn't quite your thing. For example, the Plus will get you a faster chipset, higher-res cameras, and even faster charging, the Power will prioritize battery life, while the Play will come with significant savings to account for its lesser hardware.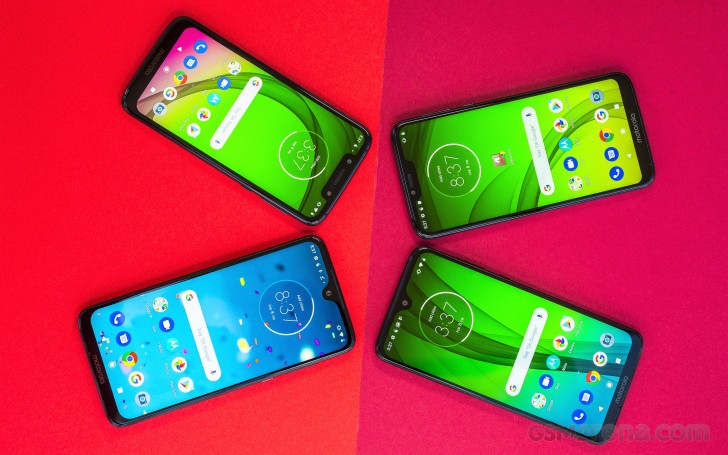 Let's stay focused on the Moto G7, though, and leave the Plus, Power and Play aside. An unboxing is due.
Motorola Moto G7 unboxing
The Moto G7 comes in a green box that's color-coded to mean it's the G7 in particular inside and not any of the other three. Of course, you won't really know that it's just that we had all four at the office at one time, and they're all different, yet the same.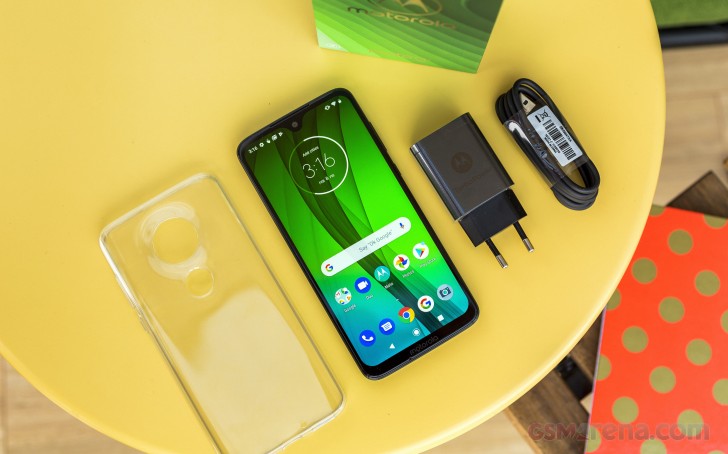 Remove the lid and the phone's right there already in a transparent silicone case – so that's what the tiny silver icon on the box meant. Other than the case, you'll also be getting a 15W charger that still has the TurboPower branding even if it's not quite as Turbo as the 27W unit that comes with the Moto G7 Plus. There's a cable too. No headset, though.
Design and 360-degree spin
The Moto G7 is a contemporary looking handset with what's become the defacto standard glass-on-both-sides build. It's virtually indistinguishable from its more upmarket sibling Moto G7 Plus, so effectively you'd be getting the premium build at a discount.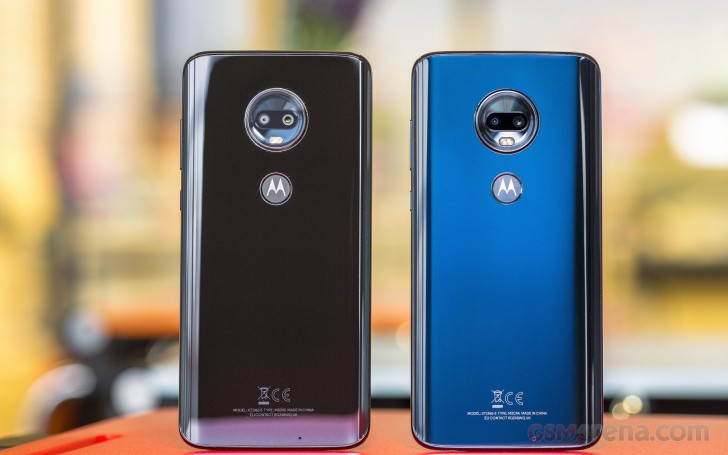 We say premium, but the frame is still polycarbonate as opposed to aluminum. Even so, it's well within reason in this price range.
We've asked Motorola reps if the back is made of Gorilla Glass 3 as is the front, and they've confirmed. That said, it's not stated explicitly on the official websites and we don't really have a way of testing it. In any case, the included… case will keep it safer.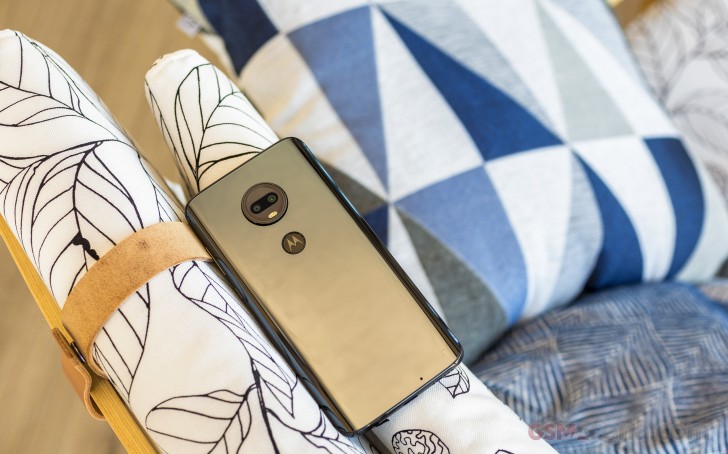 What the specs do say is that the Moto G7 has a water repellent design that should keep it safe in case of accidental spills and light rain. The phone's not meant to be submersed, though, keep that in mind.
The rear is a classic Moto design with a large circular camera bump that houses the two modules and the flash. The face now has a domino across its eyes, nice.
The fingerprint reader is below the camera assembly with an 'M' logo printed on it. It's recessed a bit, plus it's placed conveniently, so you won't be fumbling to find it when unlocking.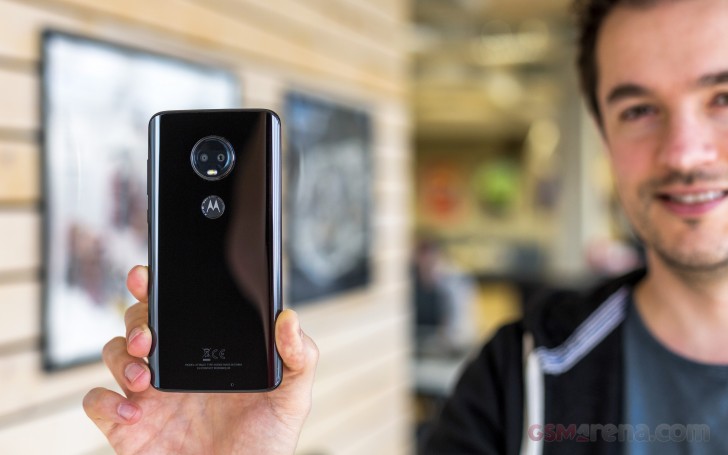 Down on the bottom of the back panel there's a pinhole for one of the three microphones. It's a solution we saw on the G6s, but we still feel it looks a little weird. It's not a common design, that's for sure.
The Moto G7 comes in its own two distinct paint jobs that aren't available on the Plus. Or rather, the Moto G7 doesn't get the gorgeous Viva Red of the Plus. Then again, you can't have the Plus in the Clear White that you can get on the vanilla model. The Ceramic Black of our review unit is the other color the Moto G7 is available in.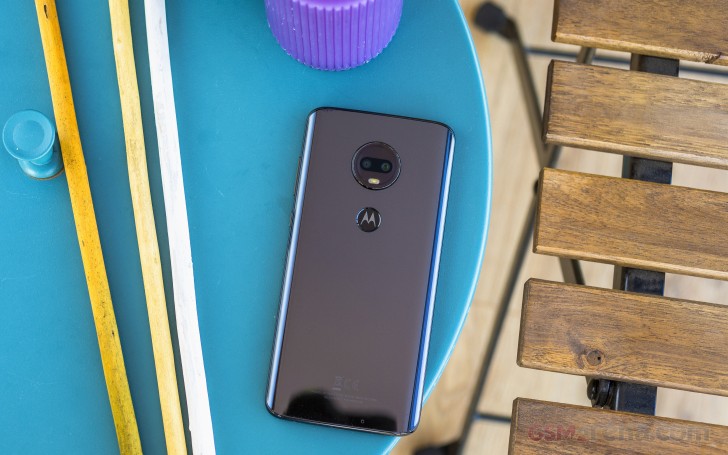 Over on the front, there's no telling the Moto G7 apart from the Moto G7 Plus. That means a tall LCD with rounded corners and a larger-than-usual waterdrop notch. Above and to the right of the camera is a sensor array that holds the proximity and ambient light sensors. Higher up, where the front glass meets the frame, there's an earpiece slit. The earpiece doesn't double as a second speaker as it does on the Moto G7 Plus, though.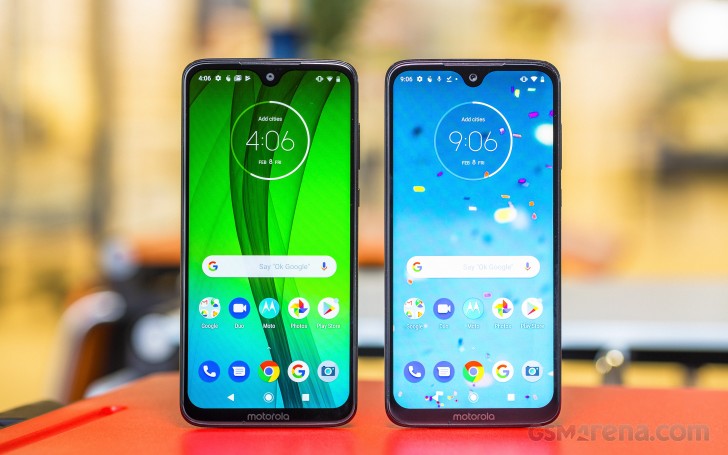 Folks with mild OCDs would be irked by the fact that the top bezel is ever so slightly thicker than the ones on the sides (which themselves aren't among the thinnest), but those are niggles that quickly disappear with actual use.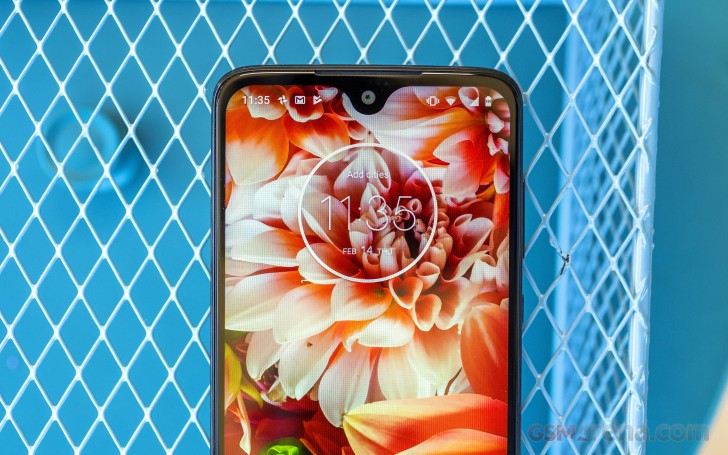 The chin below the display is noticeably thicker than the rest of the display outline, but as chins go it's reasonably svelte. There's still enough room to spell out a motorola logo in there. The primary mic is behind what looks like a nick in the display glass.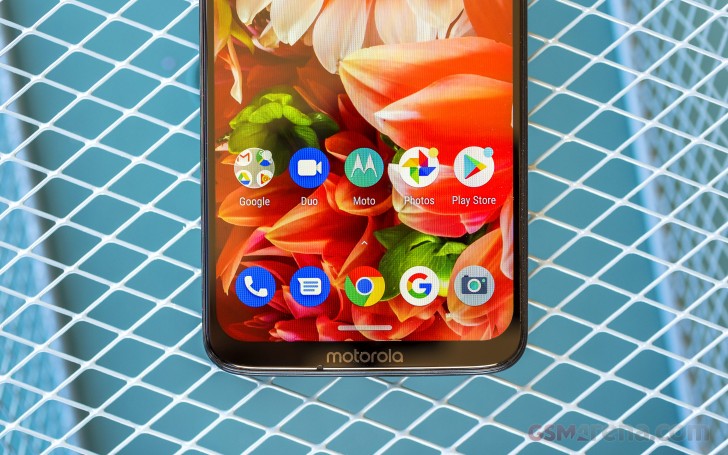 The right side of the polycarbonate frame is home to the power button and volume rocker. The power button is textured so there's no mistaking the two, but it could have been a bit larger. The clicky action is positive on both.
Up top there's another microphone and the card slot. As was the case on the previous model, the Moto G7 comes with a triple slot – two nano SIMs and microSD card can be used at the same time.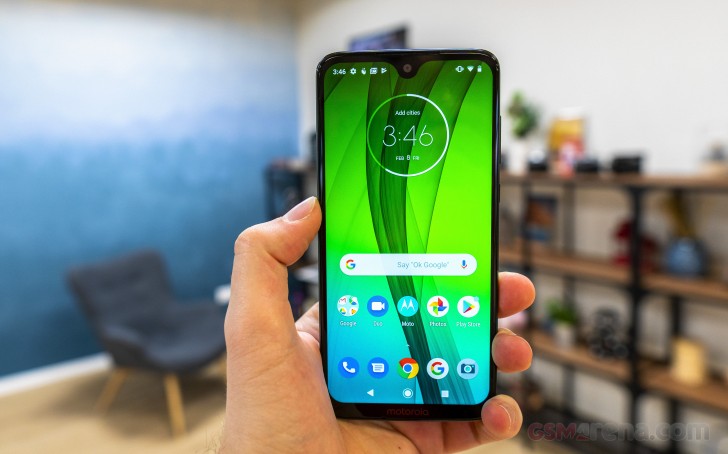 Down on the bottom, there's a USB-C port in the middle with a 3.5mm headphone jack and a loudspeaker to either side. It's the only loudspeaker the Moto G7 has, while the Plus rocks a stereo setup.
The Moto G7 measures 157 x 75.3 x 8 mm which is what you should expect for its display size. It's also reasonably light at 172g, though it doesn't have a very high-capacity battery, in all fairness. The Xiaomi Redmi Note 7 is only 0.1mm thicker for a whole 1,000mAh larger battery, though the difference does show in the weight – 186g for the Redmi. The Galaxy A7 (2018) is both thinner (7.5mm) and lighter (168g) than the Moto G7, yet it does pack a bit more juice (3,300mAh).
6.2-inch LCD is about good enough
The Moto G7 is equipped with a 6.2-inch display of the IPS LCD variety. A FullHD+ resolution in 19:9 aspect ratio means 2,270px on the long side, while pixel density works out to 405ppi. Rounded corners are par for the course too, and the Moto G7 also has a notch in the middle – a rather large waterdrop one.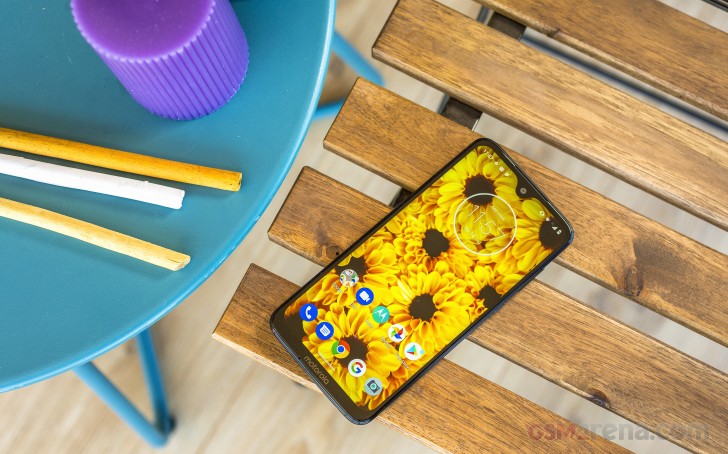 All the above specs are the same as on the Moto G7 Plus, but this vanilla G7 managed a slightly higher maximum brightness – 20nits isn't all that much, but it's something. We also measured lower illumination of the blacks, so the cumulative effect is about 10% better contrast ratio – again, not a huge difference, but still an unexpected advantage of the lower-priced phone. Sample variation and different panel suppliers are both possible explanations.
Display test
100% brightness
Black, cd/m2
White, cd/m2
Contrast ratio
Samsung Galaxy A7 (2018) (Max Auto)
0
602
∞
Nokia 7.1 (Max Auto)
0.465
600
1290
Oppo F9
0.29
526
1814
Realme U1
0.283
518
1830
Motorola Moto G7
0.315
493
1565
Nokia 7.1
0.377
490
1300
Xiaomi Redmi Note 7
0.358
479
1338
Motorola Moto G7 Plus
0.332
473
1425
Xiaomi Mi 8 Lite
0.322
468
1453
Huawei Mate 20 Lite
0.313
460
1470
Oppo RX17 Pro
0
455
∞
Huawei Honor 10 Lite
0.344
441
1282
Huawei P Smart 2019
0.325
437
1345
Honor 8X
0.346
427
1234
vivo V11
0
418
∞
Samsung Galaxy A7 (2018)
0
402
∞
Under direct light the G7's contrast turned out virtually identical to the G7 Plus's and both are about average as far as LCDs go.
Sunlight contrast ratio
Oppo RX17 Pro

4.434

Samsung Galaxy A7 (2018)

4.324

vivo V11

4.113

Honor 8X

3.113

Oppo F9

3.069

Huawei P Smart 2019

3.069

Huawei Mate 20 Lite

3.051

Motorola Moto G7

3.011

Motorola Moto G7 Plus

3.01

Xiaomi Redmi Note 7

2.893

Xiaomi Mi 8 Lite

2.862

Realme U1

2.815

Nokia 7.1

2.804

Huawei Honor 10 Lite

2.497
Just as you would find on a Pixel, the Moto G7's display options let you select between Natural, Boosted, and Saturated colors. Out of the box, it's set to Saturated and that's pretty self-explanatory. Measuring against an sRGB target we got an average DeltaE of 6.1. Neither Natural (5.4), nor Boosted (5.3) gave us a truly accurate sRGB rendition, and in all three modes the whites were particularly bluish with a DeltaE of around 8.
Motorola Moto G7 battery life
The Moto G7 relies on a 3,000mAh battery for autonomy and it's not a particularly big number these days. For perspective, the Galaxy A7 (2018) has a 3,300mAh power pack for a smaller 6-inch display, while the Xiaomi Redmi Note 7's capacity is a generous 4,000mAh. Then again, if you're looking for more juice, there's always the Moto G7 Power with its 5,000mAh cell.
Anyways, the Moto G7's battery life is alright, but not great. We measured 9 hours and change in our video playback test, and close to 11 hours of running our web browsing script. The Redmi Note 7 has 14 hours in either discipline, while the Galaxy A7 (2018) can do 15 hours in video and 12 hours in web browsing. We clocked 25 hours of talk time over 3G on the G7 – virtually identical to the Galaxy, and some 7 hours short of the Redmi's time.
Overall, accounting for the less than stellar standby endurance, the Moto G7's Endurance rating works out to 66 hours.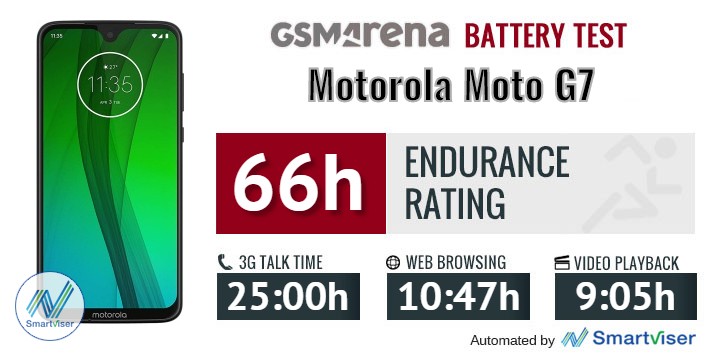 Our battery tests were automated thanks to SmartViser, using its viSer App. The endurance rating above denotes how long a single battery charge will last you if you use the Motorola Moto G7 for an hour each of telephony, web browsing, and video playback daily. We've established this usage pattern so that our battery results are comparable across devices in the most common day-to-day tasks. The battery testing procedure is described in detail in case you're interested in the nitty-gritty. You can check out our complete battery test table, where you can see how all of the smartphones we've tested will compare under your own typical use.
The Moto G7's bundled 15W charger will do zero to full in 1:34h while a 30-minute stint will get you from flat to about 47% – pretty good numbers, but nowhere near the crazy fast charge times of the Moto G7 Plus.
Loudspeaker
The Moto G7 has a basic loudspeaker setup – just one driver pointed downwards. For a stereo configuration, you'd need to step up to the Moto G7 Plus.
The Moto G7 came a couple of decibels short of an 'Excellent' rating in our three-pronged test, for a 'Very Good' mark. The sound quality is pretty good too, with no distortion at max volume and adequate reproduction of the entire frequency range, including some decent lows.
| | | | | |
| --- | --- | --- | --- | --- |
| Speakerphone test | Voice, dB | Pink noise/ Music, dB | Ringing phone, dB | Overall score |
| Xiaomi Mi Mix 3 | 67.9 | 71.6 | 73.7 | Good |
| Realme U1 | 68.6 | 73.4 | 72.4 | Good |
| Honor Play | 68.3 | 73.8 | 75.8 | Good |
| Samsung Galaxy A7 (2018) | 69.4 | 70.9 | 79.9 | Very Good |
| Honor 8X | 67.1 | 72.9 | 81.6 | Very Good |
| Huawei Mate 20 Lite | 67.8 | 70.0 | 84.2 | Very Good |
| Xiaomi Mi 8 Lite | 67.5 | 77.8 | 77.6 | Very Good |
| vivo V11 | 70.7 | 73.8 | 80.7 | Very Good |
| Realme 2 Pro | 69.1 | 74.8 | 81.4 | Very Good |
| Moto G7 (Smart Audio) | 70.2 | 71.9 | 84.6 | Very Good |
| Oppo F9 | 71.7 | 74.4 | 81.6 | Very Good |
| Moto G7 Plus (Smart Audio) | 70.8 | 72.4 | 84.9 | Excellent |
| Huawei P Smart 2019 | 69.5 | 73.6 | 86.0 | Excellent |
| Huawei Honor 10 Lite | 70.0 | 73.8 | 87.0 | Excellent |
| Xiaomi Redmi Note 7 | 69.8 | 71.5 | 90.5 | Excellent |
| Nokia 7.1 | 75.6 | 76.0 | 81.1 | Excellent |
Audio quality
The Motorola Moto G7 did well to keep up with its G7 Plus sibling in terms of the clarity of its audio output. It was just as flawless with an active external amplifier and the difference with headphones was a slightly bigger increase in stereo crosstalk, but all in all the G7 will reproduce tracks the way they were meant to sound.
Where the vanilla G7 wasn't able to match the Plus is volume. Whereas the more premium of the two blew our minds in both parts of the test, the G7 was below average, which may prevent it from driving higher impedance headphones to sufficient loudness. Still, the overall performance is par for the course for the price range and while it won't earn the G7 any extra points, it won't be held against it either.
| | | | | | | |
| --- | --- | --- | --- | --- | --- | --- |
| Test | Frequency response | Noise level | Dynamic range | THD | IMD + Noise | Stereo crosstalk |
| Motorola Moto G7 | +0.04, -0.04 | -93.6 | 90.9 | 0.0034 | 0.0100 | -94.8 |
| Motorola Moto G7 (headphones) | +0.06, -0.03 | -90.5 | 93.2 | 0.0036 | 0.048 | -62.5 |
| Motorola Moto G7 Plus | +0.04, -0.00 | -93.3 | 93.2 | 0.0029 | 0.0077 | -93.8 |
| Motorola Moto G7 Plus (headphones) | +0.07, -0.01 | -92.9 | 93.2 | 0.015 | 0.076 | -68.8 |
| Redmi Note 7 | +0.04, -0.04 | -90.7 | 90.7 | 0.0015 | 0.014 | -94.5 |
| Redmi Note 7 (headphones) | +0.05, -0.29 | -92.5 | 92.5 | 0.024 | 0.296 | -55.0 |
| Huawei P Smart 2019 | +0.02, -0.02 | -93.1 | 93.0 | 0.0039 | 0.0088 | -81.9 |
| Huawei P Smart 2019 (headphones) | +0.64, -0.38 | -88.6 | 91.9 | 0.0069 | 0.606 | -50.6 |
| Xiaomi Mi 8 Lite | +0.04, -0.04 | -93.5 | 93.4 | 0.0011 | 0.0070 | -93.4 |
| Xiaomi Mi 8 Lite (headphones) | +0.45, -0.18 | -93.4 | 93.4 | 0.021 | 0.457 | -54.9 |
| Honor 8X | +0.01, -0.04 | -92.3 | 92.4 | 0.0041 | 0.0085 | -80.7 |
| Honor 8X (headphones) | +0.45, -0.54 | -92.2 | 92.8 | 0.0084 | 0.492 | -51.5 |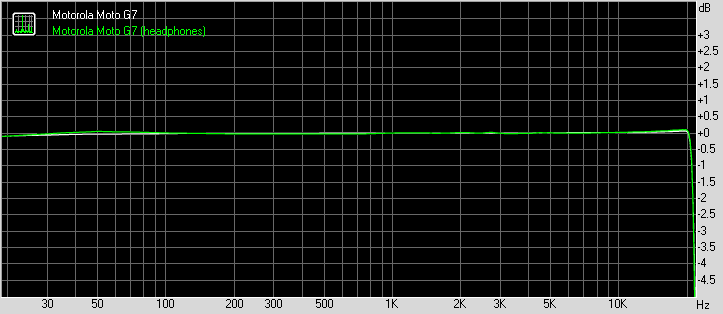 Motorola Moto G7 frequency response
Moto-modded Android 9.0 Pie
The Moto G7, in typical Moto fashion, runs near-stock Android and it's 9.0 Pie in this case. Again, typically, a set of customization options is neatly arranged in a Moto app of sorts.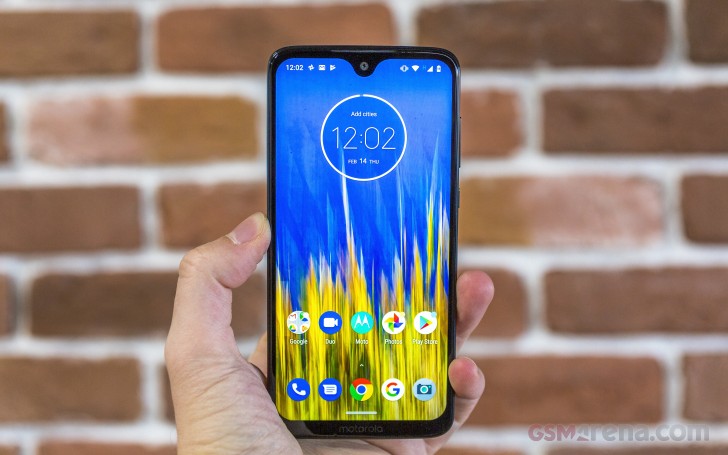 Those are neatly grouped into Moto Actions, Moto Display, and Moto Voice, and the first category is the largest. It includes universal classics like 'Flip for DND' and 'Pick up for silence', as well as Moto-specific Moto Actions like the wrist-twist 'Quick capture' gesture to open the camera.
Chief among the Moto Actions is the One Button Nav, which replaces the three-button navigation bar with a wider single button that you swipe here and there to get stuff done. By default, you swipe left on the bar to go Back, swipe right to quickly switch between the last two apps, swipe up for the task switcher, tap the bar to go Home, and tap-hold for Google Assistant. The left and right swipes can be switched around.
It's a slightly different implementation than what Google's done with the Pixel launcher and if you're coming from a Google handset it can be infuriating switching back and forth. To be fair, though, Motorola was already doing a similar gesture based navigation as far back as the Moto Z2. If anything, the latest version they have in place now on the G7s is more logical than Google's own, where they have a back button that's a bit out of place.
Then again, the One Button Nav bar is still a nav bar and takes up the same space as the classic solution, and in that sense it's not as forward as fully gesture-based UIs like Xiaomi's MIUI, for example.
Moto Display consists of just two options on the Moto G7 and the more important one is Peek Display – the not-always-on display. It'll display notifications and let you interact with them right there on the lockscreen plus it'll wake up when you approach your phone. Moto Voice's Talk to me feature will announce incoming calls and texts – helpful if your hands are full for some reason.
All of these aside, the rest is pretty much Android 9.0 Pie as Google intended it to be – well, there's also the greenish hue of the quick toggles.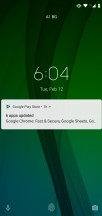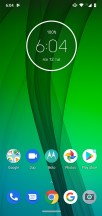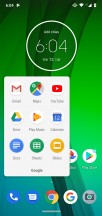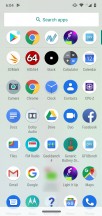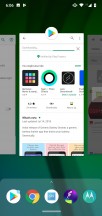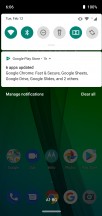 Lockscreen • Homescreen • Folder view • App drawer • Task switcher • Notification shade
When it comes to multimedia, it's all in the hands of Google and its default apps. Google Photos is in charge of gallery-related tasks and video playback, while Google Play Music is the audio player. There's an FM radio too, with RDS and recording capability.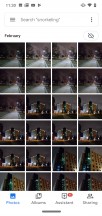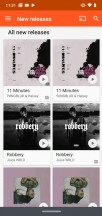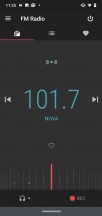 Google Photos • Google Play Music • FM Radio apps is excellent
Performance and benchmarks
Unlike the G7 Plus with its Snapdragon 636 chipset, the plain Moto G7 comes with the Snapdragon 632 – same as the Power and Play variants. The CPU packs eight Kryo 250 cores, four Gold ones clocked at 1.8GHz and four Silver ones at… 1.8GHz – yay, Qualcomm naming!
The GPU is Adreno 506, and it's here that the marginal difference in naming compared to the Adreno 509 of the Moto G7 Plus will have a more meaningful impact on performance than the Kryo 250 vs. 260 processor cores.
Our review unit is equipped with 4GB of RAM and 64GB of storage and to the best of our knowledge that's the only existing configuration. Motorola can always come up with some other regional options, however.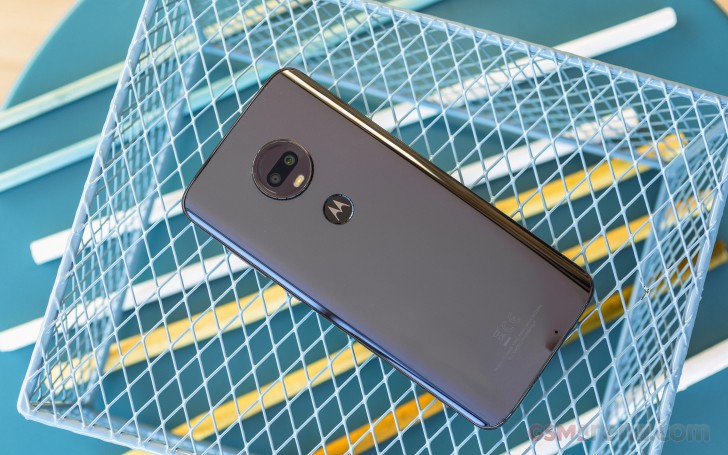 To illustrate our point about the chip differences, let's first have a look at some GeekBench scores. In the single-core test the Moto G7 is only 6% behind its Plus stablemate, which is practically tied with a couple of other S636 phones. The relative gap is even smaller in the multi-core test. Naturally, smartphones with higher-tier chips like the S660 an S710 show more meaningful performance advantages, but within the G7 lineup the difference is minimal.
GeekBench 4.1 (single-core)
Higher is better
GeekBench 4.1 (multi-core)
Higher is better
It's the GPU on the Moto G7 that proves underpowered compared to the one the G7 Plus is rocking – the Plus posts significantly higher fps numbers in all tests. Competition from other chipmakers is also coming strong, with the Galaxy A7 (2018)'s Exynos 7885 on par with the G7 Plus's S636, and the Kirin 710 in the various Huaweis being even better.
GFX 3.1 Manhattan (1080p offscreen)
Higher is better
GFX 3.1 Manhattan (onscreen)
Higher is better
GFX 3.1 Car scene (1080p offscreen)
Higher is better
GFX 3.1 Car scene (onscreen)
Higher is better
In Antutu, where all subsystems are tested simultaneously, the Moto G7 again trails the G7 Plus by a small margin. Other SD636 phones are also ahead of the vanilla G7, as expected.
AnTuTu 7
Higher is better
THANKS