Remove FRP on LG Android, Download LG FRP reset File.
The procedure for an LG handset can look a bit tricky and complicated at first, but don't get discouraged. Simply follow the steps below and you should be able to get rid of the FRP lock.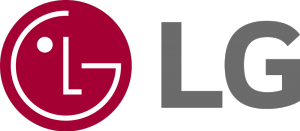 FRP bypass for LG instructions
Connect the phone to a Wifi Network (preferably your Home network)
Go back to the main Welcome screen and tap onAccessibility
From this new menu, tap on Vision, followed byTalkback option, in the next menu
Swipe up in this new menu and tap on Text-to-speech Output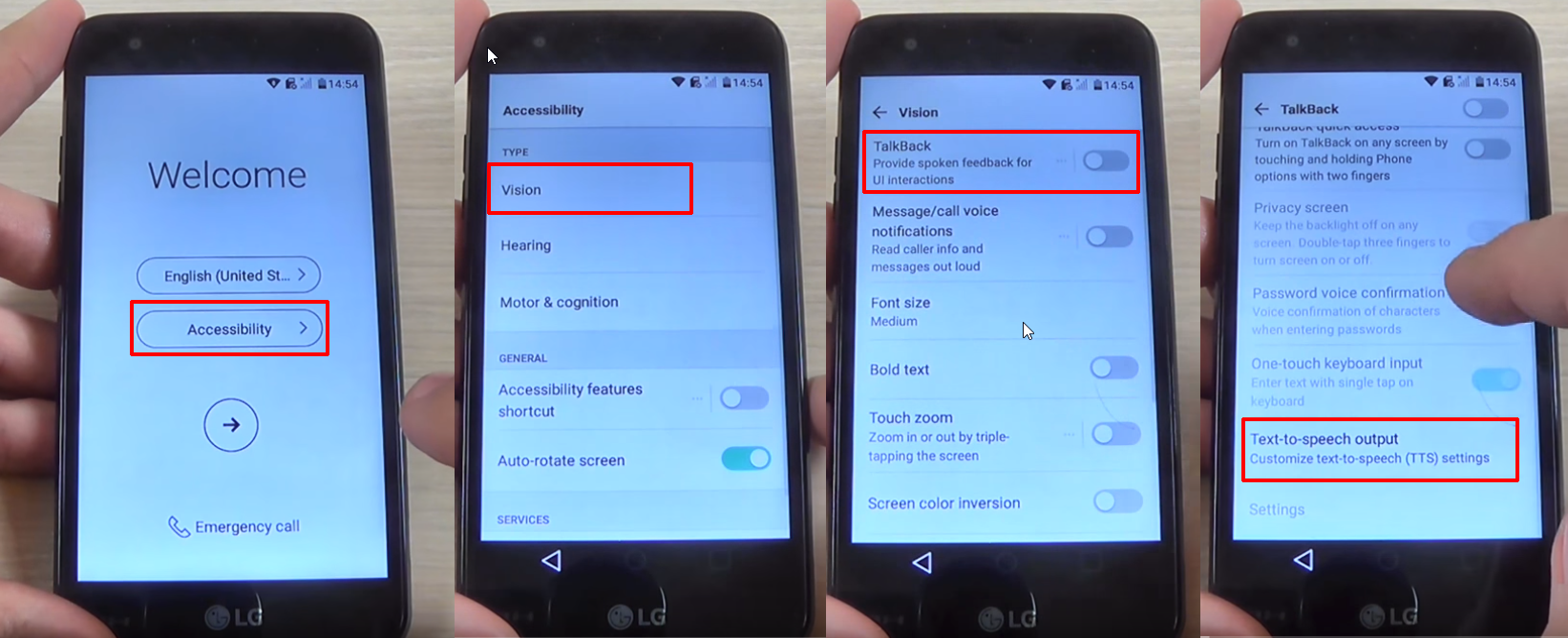 Tap the Gear settings icon from Google Text-to-speech Engine
Tap on Setting for Google Text-to-speech Engine
Here, you should see the Feedback menu. Tap on it until a new submenu appears.
You will see a field where you can type your feedback, as well as the "Include system logs" option. Right under it, you will see Terms of Service. Tap on those three words.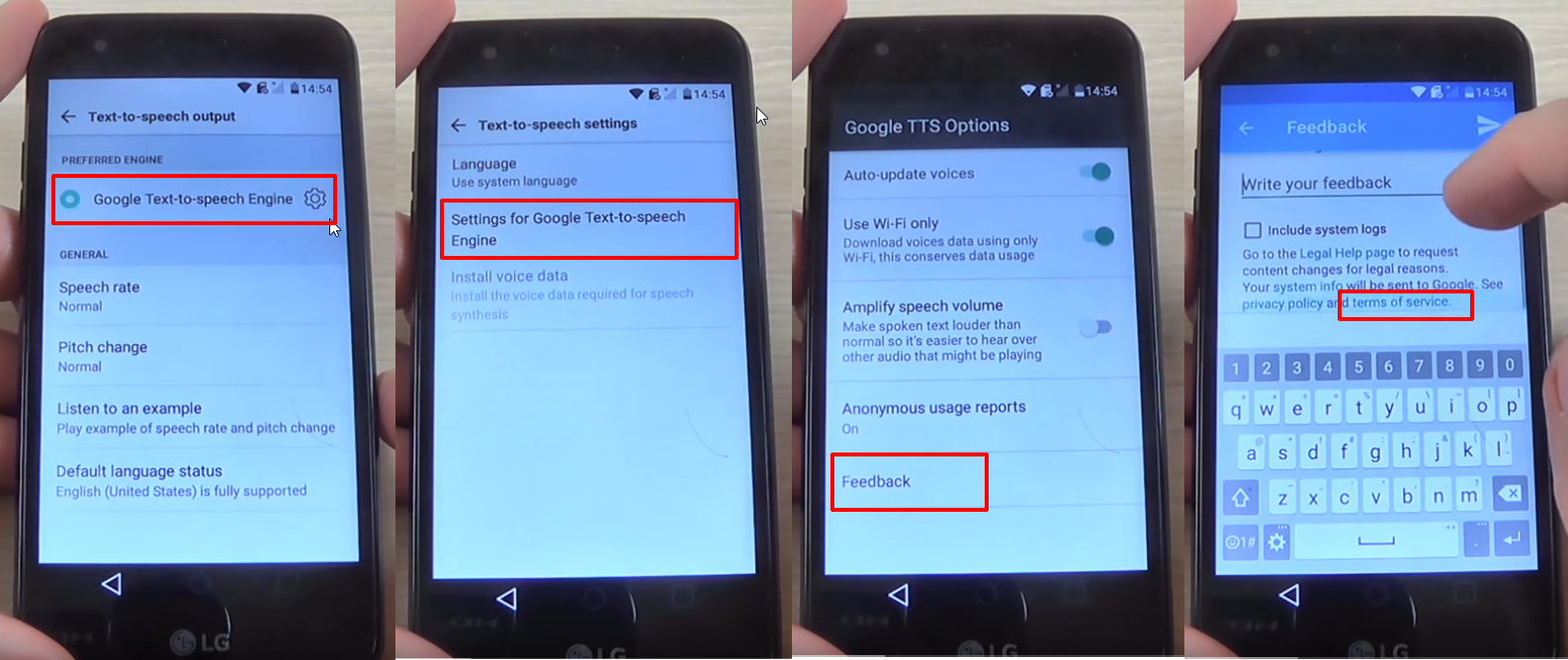 If you've reached this step, it's great. You're very close to the moment when you will bypass Google account verification on your LG.
After tapping on Terms of Service, a Google Chrome window will open. After it loads, follow these steps:
Tap the No, Thanks button when asked to sign in
Initially, you will be taken to the Terms of Servicepage. Tap the Google logo, in order to be taken to the homepage.
Type "Test" in the search bar and search for it
The first result should be from Wikipedia. Long press on the description under the title of the page. This will show a menu with two options: Copy and Share, as well as three vertical dots on the right side.
Tap on the three dots. This will reveal a new menu, with three options: Select all, Web search, and Assist. Tap on Assist. This will reveal the phone's search bar.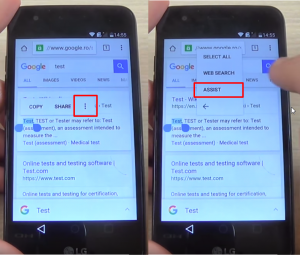 Hit No, Thanks where you are asked to sign in.
Type Settings in the search bar and open it
After entering the Settings menu, look for Appsand tap on it
In the Apps menu, tap on the three dots from the top right corner and pick the Show Systemoption. You will see an entire list of your phone's system apps
In the list, look for Setup Wizard and tap on it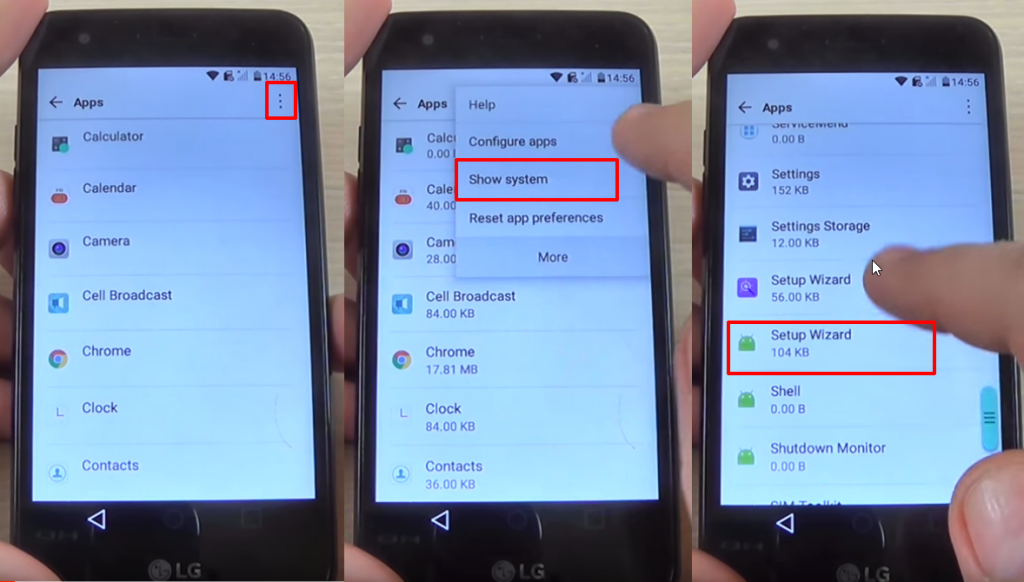 Tap Force Stop, then OK
Stay in the Setup Wizard menu, then tap onStorage. You will see the Clear Cache option. Tap on it
Another important step is ready. You're almost done!
Tap twice on the back key, in order to return to the Apps list
From here, tap on Google Play services. Repeat the steps above: tap on Force Stop, then onDisable, followed by OK.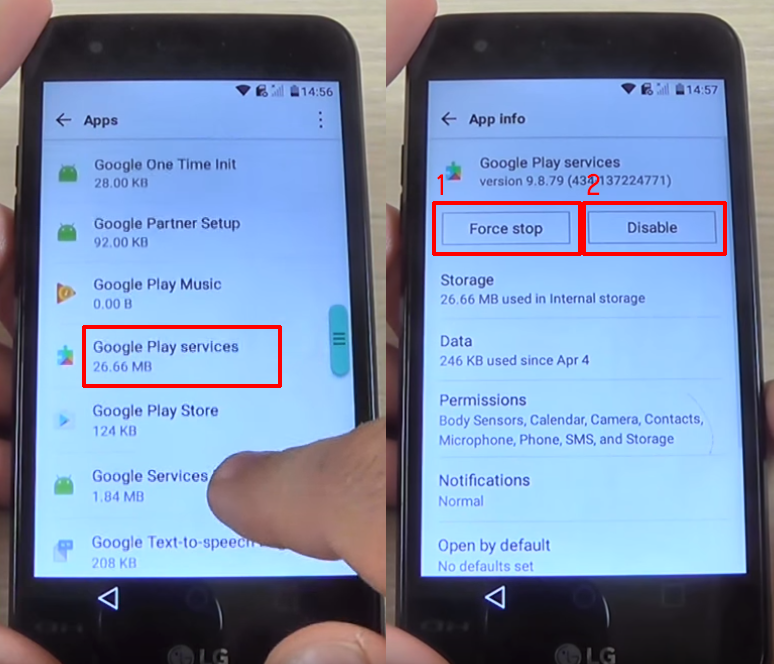 Using the back key, go back to the Settings menu
Restart your device. This will bypass Google account verification for LG
After the phone restarts, you need to complete your initial setup. Without connecting the phone to a Wi-Fi network, tap on the Next arrow from the phone's welcome screen. After this, tap Skip.
If there is a Wi-Fi connection on your phone, long press on Wi-Fi network, then tap on Forget Network, then tap on Next. Tap Skip until you see the Protect this Device option, which needs to beunchecked.
After this, skip all screens until you get to the list with the Google Terms and Conditions. Check I agree and tap on Done.
Ok, just one more step. In order to successfully bypass Google verification, you need to reset the LG phone. Again, make sure you DO NOT connect it to Wi-Fi!
Go to Settings > General > Backup & Reset
Choose the Factory data reset option
Go to Reset Phone > Delete all > Reset.
This is it! You've managed to remove the FRP lock from your LG.